Over the past year, we've made numerous changes to the SharedBook platform. These changes include new features centered around improving how users create, manage, distribute, and sell their eBooks. These features were implemented to enhance the processes that thousands of SharedBook customers use every day.

ENHANCED EBOOK CREATION
SKIP THE SPLITTING - UPLOAD COMPLETED EBOOKS
SharedBook users typically upload the elements of an eBook as multiple content items. That's great if you want to mix and match those items to reassemble new packs. But sometimes all you want to do is upload a complete book without having to split it into multiple files, or upload a separate cover.
Today, we are happy to announce that you can skip the splitting! Now all of our customers have the option to upload their eBooks as a completed document or in multiple assets that then get combined.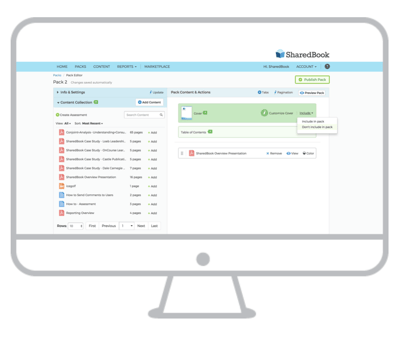 CREATE MORE ENGAGING EBOOKS WITH VIDEOS
Video has become an impactful and growing way to deliver information in today's society. According to an infographic by Wyzowl, learners remember significantly more if they are presented with visual content such as video compared to just hearing or reading the material.
We want to enable our customers to capitalize on these trends. As of today, all SharedBook customers can integrate video into their eBooks. You can upload any video up to 1GB in size and SharedBook will reformat it so that it plays well in any browser or on any mobile device. This will help keep your learners engaged and ensure they retain as much of their training as possible.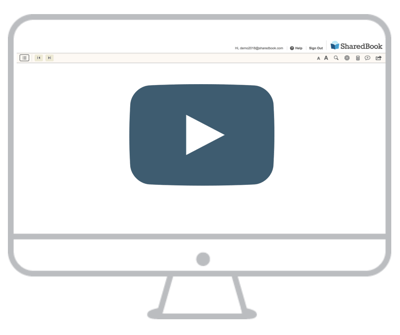 BETTER MANAGEMENT TOOLS
SAVE TIME WITH BUNDLING
Do you find yourself regularly distributing the same eBooks together? For example, maybe your course uses a Participant Guide, a Reference Manual and a Workbook. Instead of searching through your list of packs to find and select those three, you can now create a bundle. A bundle is essentially a folder that contains two or more packs. You can print or distribute the entire contents of the bundle easily - no more scrolling through your eBooks or trying to remember which content goes with which class.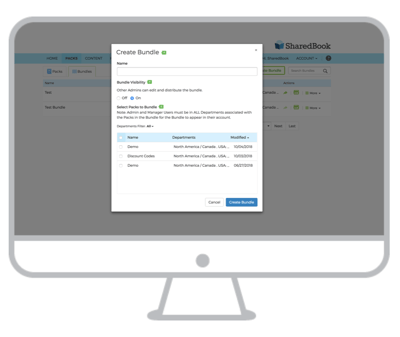 ASSIGN ROLES TO YOUR USERS

Many SharedBook customers have lots of different users that access the platform. However, often times, these users have very specific tasks and objectives. For example, they might only be responsible for ordering printed packs or maybe they're in charge of reporting out activity surrounding the use of an eBook. Since users have different purposes for using the platform, it's beneficial to give them rules for how they can interact with SharedBook. This is where roles are helpful.
SharedBook has recently added six new standard roles that are available to all of our customers. The new roles include the following:
Distribution manager

Bundle manager

Reporting manager

Content manager

Pack manger

Content/pack manager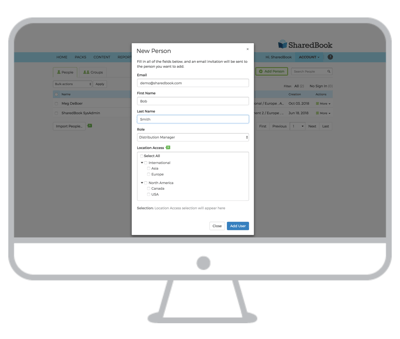 REVIEW ACTIVITY AT A GLANCE WITH REPORTS & DASHBOARDS
The right reporting and analytics can have a significant impact on the decisions you make. For example, it can help you answer questions like, "Who's looking at my packs?", "Which packs are the most popular?", "Which packs do my users have access to?", and many more.
As of today, our customers now have access to a wide variety of reports and dashboards inside the SharedBook portal. These reports include both a broad look at the use of the SharedBook as well as data around specific packs. Most of the reports include charts and graphs that are updated automatically as well as data that can be exported to share with members of your team.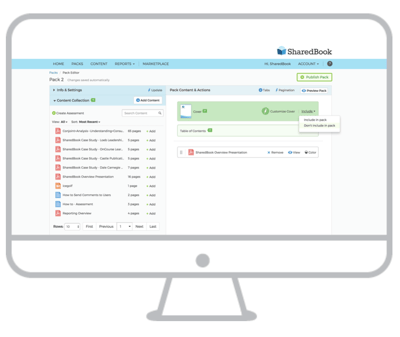 EASIER DISTRIBUTION
IMPORT A LIST OF USERS
Have a large group of users you need to distribute packs to? Don't waste time inputing them in one at a time. With this new feature, SharedBook customers can upload a list of users for distribution rather than having to type them in manually.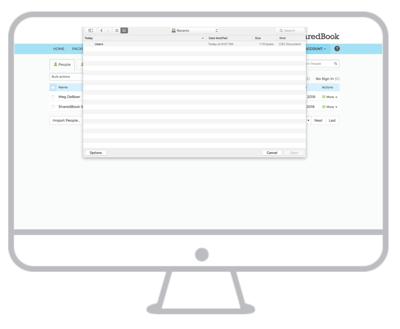 CREATE ACTIVATION CODES
Sometimes you know how many people will be attending a training session, but you don't have their email addresses in advance. To deal with this, we've created activation codes. With activation codes, customers can distribute unique codes to users instead of sending invitations to users' email addresses.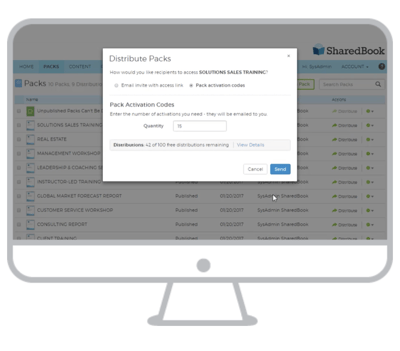 UTILIZE GROUPS
Do you find yourself distributing packs to the same group of users over and over again? Save yourself time by utilizing the "groups" feature. With "groups", customers can save their distribution lists and eliminate the need to select users individually.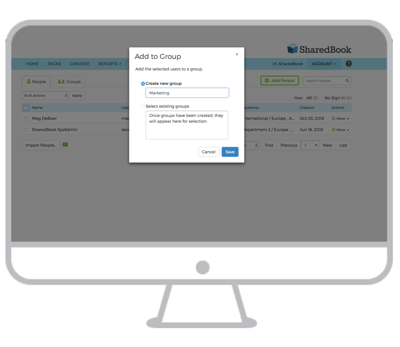 ACCESS FAST & EASY PRINTING
By leveraging our partnership with Fedex Office, distributing printed materials is easier than ever. We've added a variety of new printing options over the past year and will continue to add more options as they become available.
Order your materials through the SharedBook portal for a discounted price and pick them up same day from one of FedEx Office's 1,900+ locations.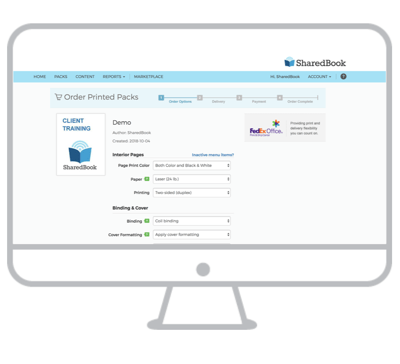 SELL YOUR CONTENT IN THE MARKETPLACE
Do you sell (or, want to sell) any of your eBooks or training materials? You probably have a huge investment in your content, so why not explore opportunities to monetize it?

With the SharedBook Marketplace, you have access to your own private eCommerce store, where you can list and sell your content. Your Marketplace is integrated into SharedBook, so adding a pack can be done in just a few clicks. You decide what's available, you set the prices, and your control access. You can even give discount codes to certain customers if you want to, or offer reduced prices for volume orders.

You don't have to compromise security when publishing your content to the Marketplace. When customers buy your eBooks, they are simply buying access to your content. They won't be able to download or copy your materials, so you maintain full control of your intellectual property.
All SharedBook customers have access to the Marketplace today. There's no risk in testing it out because listing your eBooks is completely free. In fact, we only take a small fee when someone makes a purchase from your store.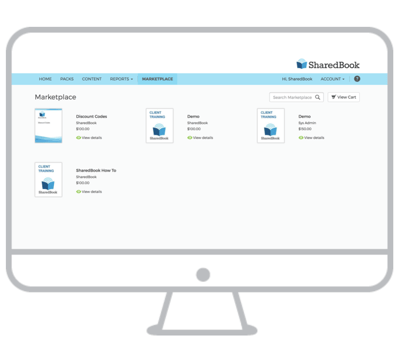 We think you'll love the new SharedBook. To learn more, check out this webinar for a detailed walk through of these features.